KOLKATA: Amidst the corona pandemic, a pregnant woman who arrived at the emergency unit Medical College Hospital Kolkata (MCHK) on Wednesday morning with cough, cold and fever, gave birth to a boy at the hospital's isolation ward.
According to hospital sources, both the mother and child are fine. Both are under close observation for symptoms of the virus, even as doctors said she is unlikely a carrier.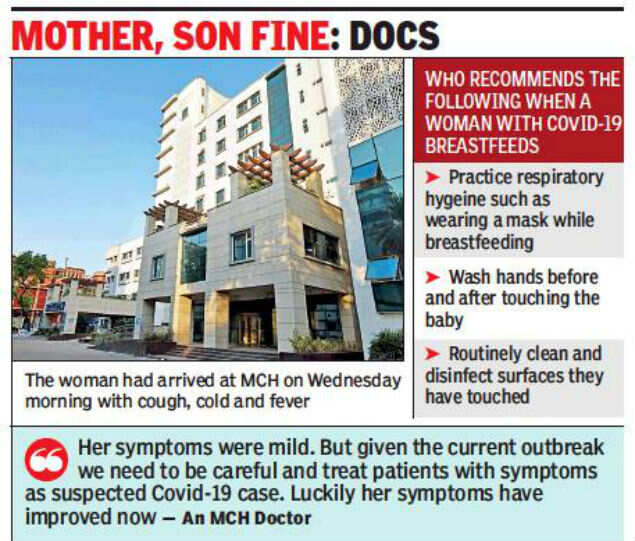 "Her symptoms were mild. But given the current outbreak, we need to be careful and treat patients with symptoms as a Covid-19 suspect. Luckily, her condition has improved now and we might not need to get her samples tested, she is in isolation for now," said a doctor.
On finding that Mausumi (name changed) was running fever and had cold and cough, doctors at the emergency directed her to the hospital's fever clinic. This clinic was created to scan patients with symptoms of Covid-19.
But by the time doctor were scanning her, she had started developing labour pain and the team at the hospital's gynaecology and obstetrics were informed.
The woman was taken to the isolation ward and a team of three doctors — gynaecologist Shyamali Dutta, an anaesthesiologist and a surgeon, in their PPE entered to attended her. The trio helped her deliver a healthy boy through a C-section.
"The patient does not have any travel history or contact with any confirmed case. But she will continue to be in the isolation ward for the next few days as a precautionary measure. Though it is unlikely to be a case of coronavirus, we need to be on the guard during this crisis," said another doctor.
The woman has been allowed to breastfeed the baby. But she is allowed to do that only after putting her masks on and washing her hands. No visitors are allowed for the time being.
Healthcare experts said there is little or no evidence if a woman can pass the virus to the newborn during birth. But many said it was unlikely as the virus is transmitted though droplets.
"The virus is new and available literature is limited. So, it is too early to conclude anything on vertical transmission. But all protective measures should be taken during the child birth," said gynaecologist Dibyendu Banerjee of Bengal Obstetrics and Gynaecological Society.
According to WHO, till date the virus has not been found in samples of amniotic fluid or breast milk. The body also says breastfeeding a baby is safe if all safety precautions are taken.