WBUR, announces the new season of Kind World, the podcast and radio series that explores how a single act of kindness can transform a life. The 12-episode season, which begins on Tuesday, March 10, explores topics that range from heartwarming reunions to unexpected gestures.
Listen to the audio trailer here.
Story continues below
Subscribe to the podcast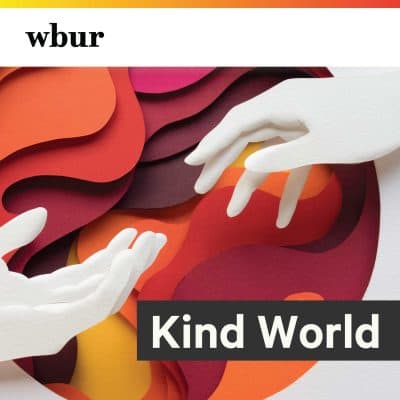 Co-hosted by journalists Yasmin Amer and Andrea Asuaje, the award-winning Kind World podcast brings listeners deeply intimate stories and interviews on-air, online and into your podcast feed, reminding listeners of the good in the world and highlighting compassionate people who are making a difference.
"We know there's been lots of difficult news in recent months from the Coronavirus to Kobe Bryant, which is why we're eager to share these uplifting stories," says Yasmin Amer. "I used to work at CNN headquarters in Atlanta before joining WBUR, and it's rewarding to bring Kind World to life each season."

The new season of Kind World will be comprised of eight brand-new episodes and four episodes that update some of the podcast's most compelling stories from past seasons. A sampling of episodes featured in the Spring 2020 season include:
• A Surprise Reunion: Fearing for her daughter's life, Dep gave up her baby as part of "Operation Babylift" during the Vietnam War. With the help of a Vietnamese expat 44 years later, Dep finds her way back to her daughter.
• Finding Hope By Giving Life: Mike was a healthy guy who was suddenly in need of a kidney. His co-worker, Genevieve, had recently lost her trust in the medical community. Together, they find a way to heal.
• The Carpool: Katie has spastic diplegia, making it difficult to get to her dream job at Boston Children's Hospital. When her new upstairs neighbor offers her a ride home and an opportunity to carpool to work, Katie finds a new sense of community.
• Looking for Sunshine: While hiking through Joshua Tree, Jana experiences an encounter with strangers that encourages her to move on and heal from the love she lost.
• Carrying The Weight: When her husband left, Heather went into survival mode. It wasn't until an acquaintance reached out with a small act of kindness when things began to change.
"I got my start at newspapers like the Miami Herald and The Palm Beach Post before switching to public radio," says Andrea Asuaje. "I love working with audio, especially podcasts because hearing these voices in your ears feels very intimate and real. That's why Kind World works for anyone searching for alternatives to negative and fake news right now — these are the true stories of extraordinary compassion we all want and need to hear."

Episodes of Kind World are free and available to stream or to download on Apple Podcasts, Stitcher or wherever you listen to podcasts. Listeners in the Boston area can hear the stories on WBUR's Morning Edition (Tuesday's 5 a.m. – 9 a.m.) as well. Follow the stories on Twitter @WBURKindWorld.
For more information about Kind World, visit wbur.org/kindworld.