BENGALURU: The 37-year-old gynaecologist and fetal medicine expert who delivered a
baby boy mid-air believes she was meant to be aboard the aircraft from Delhi to Bengaluru on Wednesday evening.
"I was there at the right time. Ideally, a senior crew member should be trained in handling emergencies. What if I hadn't been there?" wondered Dr Sailaja Vallabhaneni, consultant, fetal medicine, Cloudnine Group of Hospitals, Old Airport Road.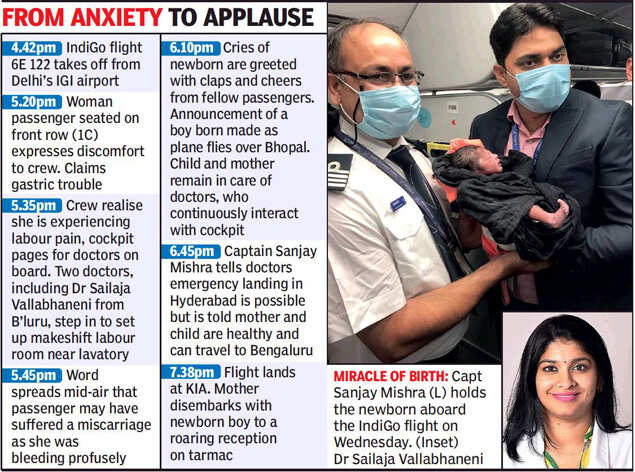 When the first emergency bell rang seeking a doctor on board, Dr Vallabhaneni saw another doctor in the flight volunteering to respond. "Fifteen minutes later, another announcement was made asking if any more doctors were available to help a woman in distress. On enquiring, the flight attendant told me a woman who claimed to be about one and a half months pregnant was suffering from abdominal pain. The woman told me she may have had gastritis. I first thought she had an abortion. But I made her walk and I could see blood stains, which made me realise she could be in labour pain. I was dealing with a lot of uncertainty," recalled the doctor.
Dr Vallabhaneni said the woman appeared to be in the eighth month of pregnancy. In keeping with pandemic norms, the doctor was wearing gloves, face shield and mask, which came in handy.
"I delivered the baby in the flight's loo area. It was the second delivery for the woman and she had no complications. She had passed stools earlier. And unknowingly, she had pushed the baby too. I could see the baby's head and he was born without any events. It took a total of 15 minutes. I cut the cord, rubbed the newborn and made him cry. The mother breastfed the baby, enabling her uterine contraction. The baby was given Kangaroo mother care to provide the required warmth," Dr Vallabhaneni narrated.
She said the other doctor, a plastic surgeon, helped her in administering IV fluids to the woman. Emergency medicine like methargine and IV fluids available on the flight helped stop postpartum bleeding. Elated passengers donated their shawls to wrap the baby in.
This was the first delivery Dr Dr Vallabhaneni conducted in the past 10 years."My roots are in gynaecology as I did masters in gynaecology and obstetrics. I further specialised in fetal medicine, which is what I am currently practising," she added.
She said the woman was very strong and didn't require sutures. "The mother hadn't seen a doctor during her pregnancy. She was extremely happy when she learnt she had delivered a boy baby. That boosted her confidence further," said Dr Vallabhaneni.
"She kept thanking me and was very concerned about the baby," the doctor said. "My daughter will be so excited to see her little brother," Dr Vallabhaneni quoted the woman as telling her. "After the delivery, the crew asked me if they had to do an emergency landing. But the child was stable and I didn't see the need for it," the doctor added.
The woman was said to be travelling alone. It was a premature delivery and the baby was found to weigh around 1.8kg.
According to Dr Vallabhaneni, basic training should be given to aircraft crew to assess the situation if any woman in advanced stages of pregnancy claims she's in the first trimester. "Also, senior flight crew should be trained in handling emergencies and there must be a maternity kit on all flights," she added.