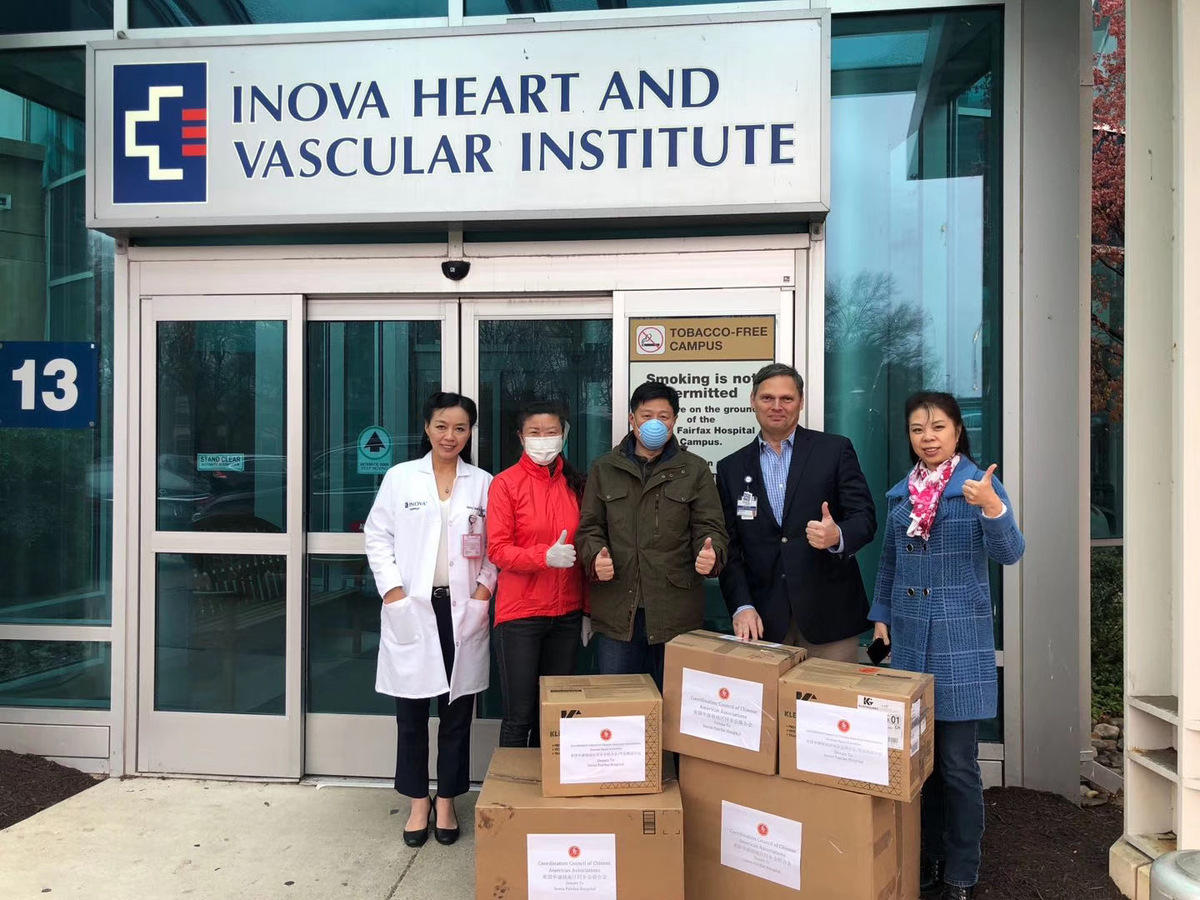 As coronavirus infections accumulate across America, healthcare workers faces a shortage of medical supplies, which puts doctors' and nurses' lives at risk and threatens the hospital systems.
To support medical professional on the front lines, Chinese American organizations and individuals across the country have responded by collecting and donating the most-needed personal protective equipment (PPE), such as N-95 masks and medical gowns, to hospitals.
The EvergreenHealth hospital in Kirkland, Washington, is just a few miles from the nursing home at the center of the US outbreak and has already seen more than 100 cases of COVID-19.
When the Chinese community learned that nurses and doctors did not have enough masks, they began communicating through social media and asked their friends and neighbors to donate their masks to hospital.
"To me it is horrible. I know in China, where the virus was first discovered, keeping the health care staff safe was a serious challenge at the beginning," a full-time mom who belongs to a Chinese American mom club in Redmond, Washington, told China Daily.
Many nurses, doctors and other hospital staff members across the country fell ill because of insufficient protective equipment, she noted, saying that to win the battle against the virus, doctors and nurses must first be protected.
The club, with the money collected from members and friends, purchased 10,000 FDA-approved medical masks from China and donated them to EvergreenHealth Hospital and the Seattle Children's Hospital.
Libby Calovich from the children's hospital told KOMO news last week that they have received an overwhelming response from the community.
"We are so grateful to them — particularly the local Chinese community has come out in waves. We have received tens of thousands of masks already in just the last few days," she said.
In San Francisco, the Bay Area Council is helping facilitate the donation and delivery of 150,000 surgical masks from a Chinese tech executive to California, including 100,000 that will be provided to the Stanford University health/medical system, and 50,000 to Direct Relief, a nonprofit that will distribute them to healthcare facilities across the state.
The masks are being donated by James Liang, chairman of Trip.com Group and a graduate of Stanford University.
Since the US declared a national emergency on the COVID-19 outbreak on March 13, the US Zhejiang Commerce & Culture Association in Southern California has actively participated in a drive to give back to the American community by donating supplies to local hospitals.
On March 19, a batch of medical supplies from the organization was picked up by Pomona Valley Hospital Medical Center, which included 900 N95 masks, 96 sets of DuPont protective suits and 90 filters.
During the same day, 260 N95 masks, 48 sets of DuPont protective suits, 1,500 medical-grade level 2 masks from Halyard Health, as well as 100 3M N95 masks, were shipped to Keck Medicine of USC via UPS.
Joy Pan, the organization leader, said that more PPE supplies will be delivered to PIH Health Whittier this week.
"We are asking our members, friends, families and all other local Chinese to donate any unopened medical-use masks, protection gowns, disposable nitrile gloves, reusable goggles, Lysol cleaners, et cetera, to our warehouse, and we will donate to hospitals. Also, we are asking our family and friends in China to mail face masks via FedEx or DHL. We will help local hospitals and protect medical professionals from our end as much as we can during this difficult time."
In Washington DC, Lei Huang, chairman of the Coordination Council of Chinese American Associations (CCCAA), told China Daily that the group planned to donate to all 10 DC-Maryland-Virginia area hospitals that receive COVID-19 patients.
This week, they have sent thousands of N-95 masks and protective gowns to five of the hospitals, including Anne Arundel Medical Center and Inova Fairfax Hospital.
Also on Monday, the Asian Chamber of Commerce along with several community partners collectively raised more than $42,000 in medical supplies donated to the city of Houston. The donation includes tens of thousands of items such as masks, sanitizers, isolation gowns, goggles, facial shields, boot covers and gloves.
"We as a collective body, including Chinese Americans, Korean Americans, Vietnamese Americans, Japanese Americans, Filipino Americans and the various other AAPI ethnicities, are in support of helping Houston through this challenging crisis and will stand by Mayor Sylvester Turner and the city of Houston in whatever the needs are," said Bin Yu, Asian chamber board chair.
Led by Houston Chinese Alliance (HCA) and Chinese Civic Center, tens of civic organizations in Houston's Chinese community are mobilized to donate money and medical protection gears to local hospitals and first responders. In less than a week, the total donation has exceeded six digits.
On Monday, HCA delivered the first batch of medical overalls to Michael DeBakey VA Medical Center. The second batch of medical overalls are being shipped directly to Methodist Hospital from a supplier in Boston.
According to Sun Yingying, founder of HCA, HCA has placed more than $37,000 worth of orders for masks, face shields, isolation gowns from reliable suppliers in China and the US.
PUAA of Houston received $100,000 from Peking University Education Foundation USA chapter to provide help primarily to healthcare organizations. The organization has received help-seeking information from more than 40 hospitals and clinics from eight states. It will send the first batch of medical supplies to New York where the pandemic is more serious.