Monday, October 19th, 2020
12-year-old has rare liver disease
By Leslie Gartrell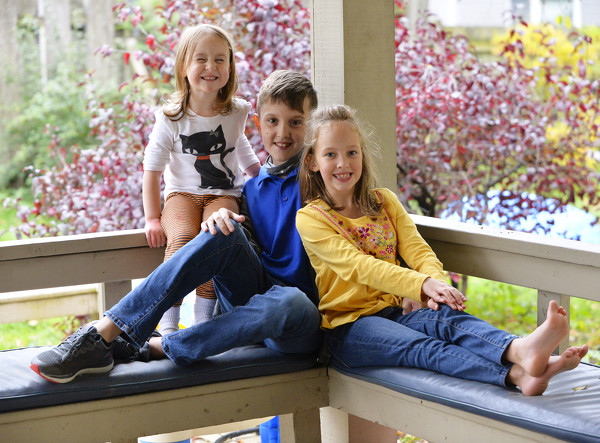 CELINA - Colten Mustard celebrated his 12th birthday on Oct. 11 with a trip to Kings Island. He had to avoid bumpy rides and rollercoasters that could cross his abdomen, but he made the best of it. It was his last big hurrah for a while as he waits for a life-saving liver transplant.
Mom Amber Mustard said the pregnancy and birth of her oldest child was rather uncomplicated. During their three-day wellness visit, their family pediatrician noticed the newborn had slightly jaundiced skin.
The newborn had blood tests done every few days to measure his bilirubin levels. Bilirubin is made during the normal breakdown of red blood cells, and it passes through the liver to later be excreted out of the body, according to the Mayo Clinic. Higher than normal bilirubin levels indicate liver problems.
As Colten's bilirubin levels continued to increase, his stool turned pale to the point of almost appearing white, dad Pete Mustard said. Their firstborn was referred to Nationwide Children's Hospital in Columbus for further testing.
The first-time parents were informed their son had biliary atresia, a rare, life-threatening disease that affects one in every 10,000-15,000 children.
"We went from learning how to have a kid to how to care for a medically compromised kid," Amber Mustard said.
The disease causes scarring and blockage in the bile ducts, which carry bile from the liver to the gallbladder for storage and to the first part of the small intestine for digestion, according to the National Institute of Diabetes and Digestive and Kidney Diseases.
In infants with biliary atresia, bile can't flow into the intestine, causing bile to build up in the liver and damage it. The damage leads to scarring, loss of liver tissue and function and cirrhosis. Amber Mustard said there's no known cause for the disease.
Soon after, the newborn underwent the Kasai procedure, which removes the damaged bile ducts and uses a loop of the infant's own small intestine to replace the damaged bile ducts, according to the NIDDK. The procedure often postpones the need for a liver transplant. Colten Mustard also had another procedure to correct a twisted bowel a few weeks later.
Colten Mustard's surgery was considered a success, with few inpatient hospital stays and annual check-ups with his liver team at Nationwide Children's Hospital. However, even with a successful surgery, Colten suffered gradual liver damage like many often do.
In May, the Mustard family took their oldest to the hospital where he was diagnosed with hepatopulmonary syndrome, or HPS, after a week-long stay due to a liver infection.
Hepatopulmonary syndrome is a rare lung complication of liver disease, and in September the Mustard family met with his team for a two-day transplant evaluation. His team of doctors decided the 12-year-old should be officially listed on the United Network for Organ Sharing active liver transplant list.
Pete Mustard said his son looks healthy to most. He's an average 12-year-old who's into video games and YouTube, and he's a part of Boy Scout Troop 69 in Celina. However, Colten's illness isn't a visible one.
A large scar trails his upper body from the Kasai procedure. His HPS has progressed to the point where he's winded from walking across a room, and his blood oxygen level hovers around 80%. A normal level is between 95-100%.
"He goes from perfectly healthy kid, to a couple percentages less in (oxygen) stats and he's carrying a bottle of oxygen around," Pete Mustard said. "He's sick, but you can't tell."
Pete Mustard said it can be difficult to see other kids outside their house, riding their bikes and playing together while their son has to stay inside. The Mustards have tried to balance his medical needs while treating him like a normal kid.
Colten Mustard could receive a liver in a variety of ways. He could receive a pediatric liver, which are harder to come by, or an adult liver, which are more accessible. He could also get a split liver from a deceased donor or split liver from a living donor, which would require them to change medical centers.
His parents said their No. 1 option is to receive a whole liver. An adult liver can be trimmed and grow with him as he gets older if necessary, and they're hoping to get a call for a transplant sooner rather than later.
The average wait time to get a transplant is around four and a half months, the parents said, and once a liver does become available the family needs to be at the hospital in Columbus within three hours. Once they arrive, there's a chance their surgeon won't be satisfied with the organ and they'll have to return home.
Pete and Amber Mustard moved their family from Columbus back to their hometown of Celina in 2017 to be closer to family when the time comes for Colten's transplant. Months of rest, rehab, doctor's visits and tests will follow.
While health insurance covers most of Colten's medical expenses, there are other expenses that insurance can't pay for. Travel between home and doctor's appointments, lodging accommodations, unpaid time off from work and more can accrue and become incredibly costly, which is why the Mustard family has paired with the Children's Organ Transplant Association, or COTA.
COTA is a 501(c)3 charity that helps families raise funds for a lifetime of transplant-related expenses. A community team of trained volunteers consisting of family and friends selected by the Mustard family have joined together to raise funds in honor of Colten for COTA.
COTAforColten's fundraising goal is $50,000 over the next six months, starting mid-October. Fundraising proceeds will benefit COTA in honor of Colten to assist with transplant-related expenses.
COTA does not charge any fees or keep a percentage, according to Amber Mustard. Gifts to COTA are tax deductible and available to Colten for his whole life.
Alyssa Rutter, Colten Mustard's aunt, is organizing fundraising events such as bake sales, t-shirt sales and a video game tourney. The family is currently raising funds via a Halloween Bake Sale that runs until Oct. 23.
While Rutter and the Mustard family are raising money, they're also raising awareness. Rutter asked that people consider registering to become organ donors on the Ohio BMV's website, donate blood or register with Be The Match to donate bone marrow.
For more information, make a donation or follow Colten's transplant journey visit www.COTAforColten.com or the CaringforColten Facebook page.