Boehringer Ingelheim and Lilly said Tuesday their sodium-glucose co-transporter 2 (SGLT2) inhibitor, Jardiance (ingredient: empagliflozin), showed superior efficacy to dipeptidyl peptidase-4 (DPP-4) inhibitor among Koreans with type 2 diabetes.
The EMPRISE East Asia clinical study was conducted based on the data of type 2 diabetes patients from Korea, Japan and Taiwan.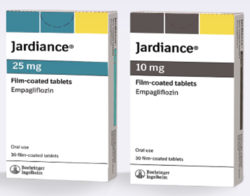 The analysis of 28,712 pairs of each of Jardiance and DDP-4 cohort over an average of 5.7 to 6.8 months has shown that Jardiance reduced the risk of hospitalization due to heart failure by 18 percent, death from all causes by 36 percent, and end-stage renal disease by 63 percent compared to the other group.
Jardiance also lowered the risk of hospitalization due to heart failure by 26 percent and all causes of death by 48 percent compared to DPP-4 inhibitors among Koreans with type 2 diabetes.
"Jardiance has decreased the risk of heart failure and death in type 2 diabetic patients compared to DPP-4 inhibitors in the EMPRISE East Asia study that reflects real-world treatment environment," said Professor Kim Dae-jung of Department of Endocrinology and Metabolism at Ajou University Hospital. "We have confirmed Jardiance to reduce cardiovascular deaths in patients with type 2 diabetes for the first time in the EMPA-REG OUTCOME study."
Shin So-young, head of Boehringer Ingelheim Korea's Medical Business Unit, said, "We are pleased to verify Jardiance's cardiovascular risk reduction effect in a real-world clinical setting in Korea. We expect the study results of Jardiance to improve therapy for type 2 diabetes patients with a high risk of developing cardiovascular complications in Korea."
Endocrinology, Diabetes & Metabolism, a European journal of endocrinology, published the study results on Sept. 16.